Marin County Court proposes changes to telephone appearances. The new rules are effective Jan. 1, 2018, and comments are due by Nov. 27.
---
November 4, 2017. Ted Broomfield, staff reporter, lawinformation.info.
On October 13, 2017, the Superior Court of California Marin County posted proposed local court rules changes. Among the significant changes were changes to telephonic appearances in civil and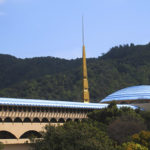 family law cases.
At the time of this article, CourtCall LLC was the conference call provider. However, the
proposed rules strike references to CourtCall LLC. According to a representative from CourtCall LLC, CourtCall LLC will still be providing services going forward.
The proposed rules contemplate that a party making a telephone appearance is required to schedule that conference via the court's web site. The proposed rules leave the web site address blank. In general, the party making a telephone appearance is required to schedule it two days in advance. There is a fee for a telephone appearance. If the party schedules a telephone appearance with fewer than two days advance notice, there is an increased fee.
Other changes include the following:
Ex parte notice in family court can be given by voice mail message;
The rules provide for use of the original trial file in lieu of a transcript, if unavailable; and
For infractions, the rules no longer state that the court will not reduce bail or community service hours.
Written comments on this or other changes may be submitted until Monday, November 27, 2017 by 4:00 pm to the following:
Marin County Superior Court
Court Executive Officer, Attn: Local Rules of Court. P.O. Box 4988, San Rafael, CA 94913-4988.
administration@marincourt.org
Written comments or proposed changes should be submitted to the above no later than.
Additional information regarding the revision of these local rules, can be obtained from the Office of the Court Executive at (415) 444-7020. The email address is administration@marincourt.org.
Sponsored by tedbroomfieldlaw.com
Sources:
Proposed Marin County Local Court Rules: http://www.marincourt.org/data/PDFs/ULRD.pdf
Marin County Court Local Rules: http://www.marincourt.org/data/PDFs/ULRules.pdf
CourtCall LLC: https://courtcall.com/