Entering into a mandatory arbitration agreement without power to do so makes the agreement void.
The California Court of Appeal just published two decisions that hold that arbitration cannot be compelled under an agreement to arbitrate when the party resisting the agreement did not have the power to agree to arbitration when the contract was formed.
In Hutchinson v. Eskaton Foundation Lodge, Court of Appeal of the State of California, Third Appellate District, the court held that the Power of Attorney Law and the facts of the PoA agreement made the attorney's decision to sign an agreement containing a mandatory arbitration clause a "health care decision," under California Laws Power of Attorney Law (Prob. Code, § 4000 et seq. (PAL)), and the Health Care Decisions Law (Prob. Code, § 4600 et seq. (HCDL)). On these facts, a "health care decision" was outside the scope of the attorney's authority. Thus, the mandatory arbitration clause was void.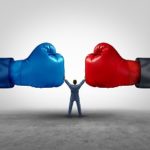 In Julian v. Glenair, Inc., the Court of Appeal of the State of California Second Appellate District held that when an agreement to arbitrate a dispute brought under the Labor Code Private Attorneys General Act of 2004 (PAGA; Lab. Code, § 2698 et seq.) was made before the employees obtained statutory power to bring suit under PAGA that agreement to arbitrate is void.
Sponsored by: Ted Broomfield Law, a leading personal injury and privacy attorney in the San Francisco Bay Area.
Source: http://www.courts.ca.gov/opinions-slip.htm
Go back to lawinformation.info