January 2018, is prevention of Slavery and Human Trafficking month, according to a proclamation by U.S. President Donald Trump.
On December 29, 2017, U.S. President issued a proclamation. That proclamation declared January 2018 "National Slavery and Human Trafficking Prevention Month." The proclamation stated "an estimated 25 million people are currently victims of human trafficking for both sex and labor."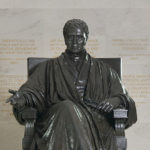 Additionally, the U.S. President said, "…this month, I will sign into law S. 1536, the Combating Human Trafficking in Commercial Vehicles Act and S. 1532, the No Human Trafficking on Our Roads Act," and that "the Department of State has contributed $25 million to the Global Fund to End Modern Slavery…."
Sponsored by: Ted Broomfield Law. Ted Broomfield is a leading personal injury, privacy and landlord tenant attorney in the San Francisco Bay Area.
Return to http://www.lawinformation.info homepage.