A pool too small has no class, according the the California Appellate Court, which denied class status on consumer claims against retailer, Thrifty Payless, for selling a pool that was smaller than advertised.
[sociallocker]
In Noel v. Thirfty Payless, Inc., the Appellate Court for the State of California, First Appellate District, Division One, affirmed plaintiff, Noel's appeal from a trial court denial of class certification on a non-ascertainable class.
Plaintiff Noel purchased an inflatable pool. That inflatable pool was materially smaller in real life, than as pictured on the box. Noel sued under the Consumers Legal Remedies Act (Civ. Code, § 1750 et seq.) (CLRA), the Unfair Competition Law (Bus. & Prof. Code, § 17200 et seq.) (UCL), and False Advertising Law (Bus. & Prof. Code, § 17500) (FAL). Noel motioned the court to certify a class.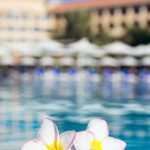 The trial court denied the motion. The reason for denying the motion was that Noel's proposed class—consisting of more than 20,000 potential members—was not ascertainable under Code of Civil Procedure section 382. Additionally, the trial court also refused to certify a class on the CLRA cause of action, because the trial court determined common questions of law or fact did not predominate over individual questions of reliance and causation.
[/sociallocker]
Noel appealed. The Appeals court held:
"Class counsel filed the class certification motion without first conducting prematurely. The appellate court found that plaintiff's counsel had not conducted sufficient discovery and could not meet its burden of demonstrating there are means of identifying members, so those members can be notified of the litigation. That failing jeopardizes the due process rights of absent class members. Rather than relieve the class representative of the obligation to make such a showing—as Noel's counsel seems to suggest, the Appellate Court affirmed the trial court's denial of the class certification motion."
Sponsored by: Ted Broomfield Law, a leading personal injury and privacy lawyer in the San Francisco Bay Area.
Source: http://www.courts.ca.gov/opinions-slip.htm
Go back to our homepage: http://www.lawinformation.info